Joanna's expertise comes from continuously learning, but also from personal experiences she has had herself with specific conditions including adrenal exhaustion, chronic fatigue, dehydration (after an Ironman as well as in winter), sleep issues, candida, PMS issues, hormonal balance, hip replacement, chronic pain and more.
Pain management came from her own degenerating hip utilizing Nutrition Response Testing and the Anti-Inflammatory Diet.
Education and Certifications:
EDIT™ Eating Disorder Intuitive Therapy Level I – June 2020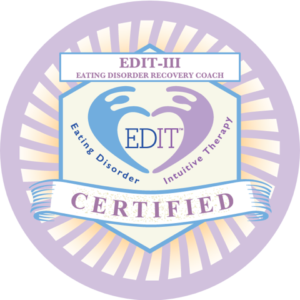 Level II certification – April 2022
Level III certification – August 2022
Medical Intuitive Training – Sounds True – April 2020
Sports Genomic Culinary Certification – August 2018 – Using genomic SNPs to refine nutrition protocols to up-regulate (turn on) specific gene expression, or down-regulate the unfavorable gene expression.  Clinical genomic testing can be attained from Genoma International.
SIBO Treatment – September 2018
Metabolic Efficiency™ Training Specialist for The Health And Medical Professional – May 2016  – A system to analyze results from a Metabolic Cart test and apply nutrition principles to balance blood sugar, weight, and promote fat burning.
Webinars & Continued Education:
Family Dynamics in Eating Disorder Treatment – Center for Discovery, October 2022
Eating Disorders and SUD  (Substance Abuse) – Center For Discovery, Eating Disorder Treatment, May 2020
The Importance of Gender Informed Care in the Treatment of Eating Disorders – Webinar, Monte Nido, February 2020
Neurobiology of Eating Disorders: Translating Research into Clinical Practice – webinar, Monte Nido, August 2019
Living In The Shadows of An Eating disorder: Incorporating Siblings Into Treatment – Monte Nido, June 2019
The Ultimate Sports Nutrition Seminar – Metagenics, June 2014 – working with injuries, dehydration, detox and other sports nutrition issues
Healthy To Hazardous: Diagnosis and Treatment of the 21st Century Eating Disorder – September 2013
Nutrition Response Testing™ – ULAN Training Systems – January 2012
Raw Food series – Vitality and Health – June 2009
Gluten Sensitivity – the new epidemic  – Metagenics, October 2008
Certified First Line Therapy® Lifestyle Educator – Metagenics, December 2007
The Fatigue Solution – How to identify causes of fatigue & strategies to get results – Dr. Kristi Hughes – Metagenics, March 2007
How to Use Laboratory Testing for your Clinical Practice – Carbon Based Corporation/ Crayhon Research – Reno, NV – October 2006
Restoring Patient Health Through Functional Endocrinology  – Dr. Rakowski – Metagenics, September 2006
Obesity Related Health Problems: New Understandings & New Solutions – Dr Robert Rakowski – Metagenics, April 2006
Successful Strategies for Overcoming Childhood Obesity – Kristi Hughes, MD – Metagenics, March 2006
Clinical and Sports Nutrition Technologist – INTRAFITT Academy of Allied Health Care Professionals- January 2006
Managing Women's and Men's Health Issues – Kristi Hughes, MD – Metagenics, October 2005
Sports Nutrition Supplements: Are they harmful or helpful? – Gatorade Sports Science Institute – July 2005
Managing the Complex Patient: Science Based Natural Therapies For the Most Challenging Cases – Metagenics, June 2005
Nutritional Consultant Certificate – Global Institute for Alternative Medicine – September 2003
American Association of Nutrition Consultants – professional member, since October 2003
Bachelor of Arts, Chemistry – Knox College – June 1987
Other:
The Path To Heal –
Master Attunement – April 2019 – Attunement to Christ Consciousness and Heaven on Earth protocols
Master Practitioner – October 2015 – The first Master Practitioner for The Path To Heal system for healing emotional, mental and spiritual imbalances.  Path To Heaven 2019; Heaven on Earth 2017, Kitty and Doggie Tarot Cards 2018; Professional Actualization 2019 (for business owners).
Advanced Practitioner April 2015. Learn how to have a life with joy and happiness – September 2011, Divine Feminine 2012, Path To Prosperity 2012, Pure Joy 2013 and The Dream 2014, I Am The Creator, Transcendence and Divine Ego 2015
AromaTouch Technique – A system using specific doTerra essential oils with specific techniques to help find balance, boost the immune system and encourage healing on a cellular level.  October 2015
USA Triathlon Level I triathlon coach certification – July 2007
Exercise Physiology and Biomechanics for Triathlon Coaches – PhysFarm level I – January 2008
Exercise Physiology and Biomechanics for Triathlon Coaches – Working with Elite & Amateur Athletes – PhysFarm level II – November 2008
Swimming
Swim Coaching, Age Group – 2010, 2011 seasons, Central Buck South HS
Paradigm for the Future I, II and III – A revolutionary technique in swimming utilizing natural body motions and ranges. Like pairing yoga with swimming. -Milt Nelms – April 2004 (part of USA Swimming course offerings)
USA Swimming Level I swim coach – January 2003
US Masters Swimming and Asst Age Group Swim Coach – Germantown Academy, Ft Washington, PA – 2002-2003
American Red Cross certifications: Lifeguarding for Open Water Swimming, Water Safety Instructor, Water Safety for Swim Coaches, Adult CPR, and First Aid