Welcome to the Wholeness Healing Circle!
An monthly gathering to nurture ease, grace and loving into all aspects of your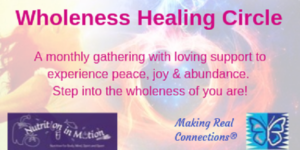 life. 
Step into the wholeness of your life on all levels of your being!
Gain inspiration for more loving in relationships, partnerships and life to inspire connection and joy.
Gain clarity in your desires so the doors to possibilities open so your heart can sing!
Experience a safe space where you gain loving support with compassion and encouragement for inner spiritual growth.
Know that you are not broken, you are whole and perfect.
Uncover and release emotional barriers that cause pain.
"My life opened up after Wholeness Circle.   Joanna's work with The Path To Heal system really got me into a better place emotionally and mentally.  I received so many 'Ah-Ha's' during these sessions.  It has truly allowed me to trust – myself and God."
These circles are welcoming, loving and supportive.
Step into your life path on purpose with ease, grace and joy.  Know that you are whole and perfect as you are.
Each session is a bit different and can include guided meditation, discussion, prayer communion, exercises, games and emotional release techniques to easily identify and remove subconscious emotional issues and amplify the loving that is inside of you.
Sound healing, angel cards and essential oils are used to aid in raising your vibration to unconditional love.
Be loving in your choices and your life.
Joanna is an intuitive nutrition therapy coach, ordained minister, master practitioner of The Path To Heal system and lover of life.
Join us for these inspiring healing circles.
"I have a clearer vision of what I want and how to make it a priority in my life every day."
The Healing Circles will be held at 1 PM and 7 PM every 3rd Monday at
Nutrition in Motion, 106 Pimlico Way, North Wales, PA.  (Dec 16th  is the week before Xmas)
Sign up for 1 class session for $25 or for the full 8 sessions for $175.   
To register, go to
or call 215-272-6774.
Commit to your journey to self.
---
"That last session was so spot on!  Actually, every session was so on point.
I wanted to focus on being still, doing less of what i don't want and stop being so busy (as I cannot do what I really want to!).
of course, it came up for other people too.
I have more clarity of what I want to create and how I can make it happen because of these sessions"
"That was such an awesome series!"
"You are special and a master!  These sessions really get to the bottom of the issue like nothing else I have experienced."
"I am finally standing up for myself.  I am that I am…and noone can keep me from being me!"
"My business is flowing like I have always dreamed of.  I am so grateful to be in these sessions so I can allow things to happen rather than try to control the outcome.  Life is becoming so much easier, and more fun without the control and stress."
---
We will use essential oils in the sessions to aid in clearing emotional barriers and creating stability and optimism about following your path.
Spring into the wholeness of your life and transform it into a life of passion, living, joy and fullness.
These sessions will transform your life into the life you dreamed of.
"Today's (Swing Into Your Wholeness group) session was on target.  We released rigidity!
You are a Master in the Path to Heal.
The issues that arise to work on and release have been so right on.  Thank you!" – Lisa B

"I didn't realize my pain was related to emotional trauma from childhood.  After today's group session (Wholeness Of Your Life), my pain went from a 6-7 down to 3.
"It was an amazing session!  I am so glad I made the session and am so signing up for the next series!" – JB
---
The Path To Heal is a healing system that allows you to journey to your center using sound, crystals, grids and specific techniques to identify and release emotional blocks and fears of judgement or shame.  Joanna Chodorowska is a Master Practitioner of The Path To Heal bringing over 7 years of practice with compassion and love in her guidance.