Joanna teaches swim lessons in Montgomery and Central Bucks County to adults and teens seeking to improve their strokes and turns for competition and triathlon.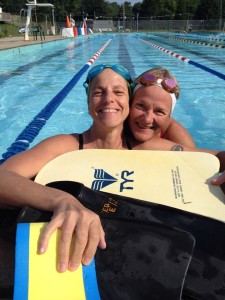 She helps triathletes become swimmers who are fully comfortable in the water, and ready for competition (or masters swim classes!). If you just cannot get faster no matter how hard you try… swim lessons are the answer. You'll be amazed at how a bit of stroke technique will make a bigger difference than swimming more yards.
The nuance corrections in the stroke or turn can be the difference in seconds of time in placing, or minutes in a mile swim.
Joanna teaches at the YMCA in Doylestown, PA, and limited swim lessons at Simmons Elementary in Horsham, PA, (during school year only). You do not have to be a member to take lessons at either location.
Lessons are typically 30 minutes long for one stroke.
45 or 60 minutes for swim team students as we review all the strokes and turns.
30 minute lessons are $58 and full hour is $108. Packages are also available.
Check out the Swim Clinics below, too!
---
Learn2Swim Clinics Starting in January 2020!
Perfect for the beginner triathlete wanting to do their first triathlon event including Women's Philadelphia Triathlon, CGI, Steelman or any triathlon.
Or for the athlete who wants to get fully comfortable in water and improve their stroke mechanics. Not just for beginners! Click here for the flyer.
Week 1 – Start with drills to get you completely comfortable in water including breathing and floating. We work on body positioning and arm position drills. We do some baseline timing and analysis.
Week 2 – Review of kick with drills, body positioning, instruction on using fins to aid in kicking. Body position drills to make swimming easy. Adding arms with your new relaxed kick.
Week 3 – Review of breathing mechanics and adding it to freestyle stroke. Drills, use of buoys and paddles to improve form, and putting the whole stroke together with ease and fluidity.
Week 4 – Final drills for improving stroke. More timing and analysis to compare with week 1. Putting the parts together for a fluid and powerful freestyle.
January 12th through Feb 2nd – Sunday clinic for 4 consecutive weeks.
March 8th through Mar 29th – Sunday clinic for 4 consecutive weeks.
All clinics are 4-5:45 PM on Sunday sessions and will be at the Doylestown YMCA.
Register below.
There are 3 Open Water Swim clinics on May 31st, June 21st and July 12th, 2020.
You will learn all you need to know to feel totally comfortable in open water. You do the hard stuff in the pool session so when you get to Open Water it is no longer threatening and you feel completely comfortable. Click here for the details on the Open water swim clinic .
Sunday afternoons from 4-5:30 PM at the Doylestown YMCA
Register below.
Contact Joanna at 215-272-6774 for more details.