Jumpstart To A Healthier, Thinner You With The Detox Plan for Athletes without starving yourself or fake shakes!
This Detox Plan for Athletes plan will change your life.
It is really easy to follow for athletes and non-athletes alike!
You will be leaner, feel healthier and perform better!  Plus you get to eat!
This Detox Plan for Athletes 2022 edition will help you eat cleaner, eat real plant-based foods and fuel your inner athlete.  You'll start to burn clean, have more energy and fit into your 'skinny jeans' and race kit without the muffin top!
This is not a diet plan so there are no restrictions in calories – just a change in choices to more vegetables, more root vegetables instead of grains, limited animal proteins and no processed food.  Take this Detox Questionnaire and see if you need a detox.
Click here to get the Full Detox Plan 4 Athletes Plan for $250….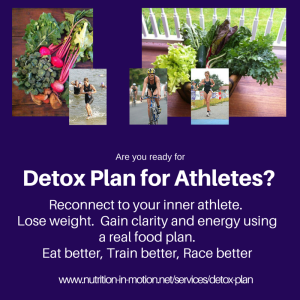 and become a leaner, healthier athlete you are!
3 x 30 minute nutrition coaching sessions before, during and after
1 session to review where you are and how to implement the Detox Plan
1 session 2-6 days into the plan to make adjustments as needed
A sessions after you finish to create your 3-day meal plan and modify meals to your current training cycle
ebook version of the Detox Plan For Athletes with 90+ recipes, daily plan for 5 days, grocery list, substitution options and more
unlimited questions answered by text, phone or email.
Click on the link to order your just the ebook!  or to add a single 30-min session.
The Group Plan for the Detox Plan For Athletes is available now!
The Detox Plan  For Athletes Group starts June 16, 2023 with daily email support, daily zoom, recipe videos and a Facebook group.  You will also get a week to prepare with reading the actual content, zoom calls for answering questions, cooking classes and emails to get your experience off in the best way.
Click this link and grab it for $47 (and if that doesn't work click here ).
(Please do not do this a week before or after race weekend without adapting the plan with me first – schedule your review session here)
Reconnect to your natural energy and inner athlete,
Gain more energy, improve your endurance,
Gain clarity and focus,
Lose weight – typically 4-12 pounds in the 2 weeks,
Look years younger with vibrant, glowing skin,
Sleep better, wake up refreshed!
Recover faster, without pain or stiffness,
Perform better, swim, bike and run faster!
Eliminate seasonal allergies as well as stiffness, pain and and anything related to 'getting older".
This plan can be done several times a year.  Every athlete (runner, cyclist, triathlete, endurance athlete, ultra runner, ultra cyclist) should do it once a year!
Click here to get the Detox plan!
Want to see the Table of Contents?  Click here.
Click  The Detox Plan Descriptions to help you choose which is best for you.
Need a Detox Cooking Class to make your plan easier?  Only $35 pp for a group of 6 minimum.
Do you need a detox?  Take this Detox Questionnaire!