Messages of Love & Inspiration For Every Moment book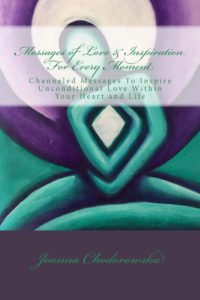 My first book is available on Amazon and Kindle.
See this page for more details to order, or here to read reviews.
Listen to my interview on WNPV radio BuxMont live here.
"We all have the key to amazing love…Joanna's book helps you get through the challenges with love."  JO
Want an autographed copy?? 
Buy it here – just let me know where to send it and who to write it to (if a gift) and it will be on it's way in 1-3 days.
---
Make You Own Energy Bars ebooklet – $3.00
6 all food based recipes for making you own energy bars for training, sport or snacks.
Detox Plan for Athletes ebook – $18.00
Jump start your healthy with this real food detox plan.  With over 80 recipes, you cannot go without getting this Detox Plan for a more amazing feeling and performance from your body!
Mini Detox Plan ebooklet – $10.00
A shorter version of the above books for a 5-7 day cleanse. 
Make Your Own Soups ebooklet – $3.00
From the class I teach, a compilation of easy and delicious soup recipes that can be made in less than 30 minutes from start to finish.  GF and Dairy free. 
Recipes for the Dehydrator ebooklet – $3.00
This was a fun class to do with many realistic options made in the dehydrator. All have been tested.  Over 10 recipes in this ebooklet.  Staple items for your gourmet tastes!
---
Need some personalized help??  Learn how to cook??
You can schedule a Food Fun with Joanna cooking class with your friends and we can play in the kitchen $25 pp with minimum of 4 people if at my kitchen. 
$35 pp with minimum of 8 if at yours (with yours free)