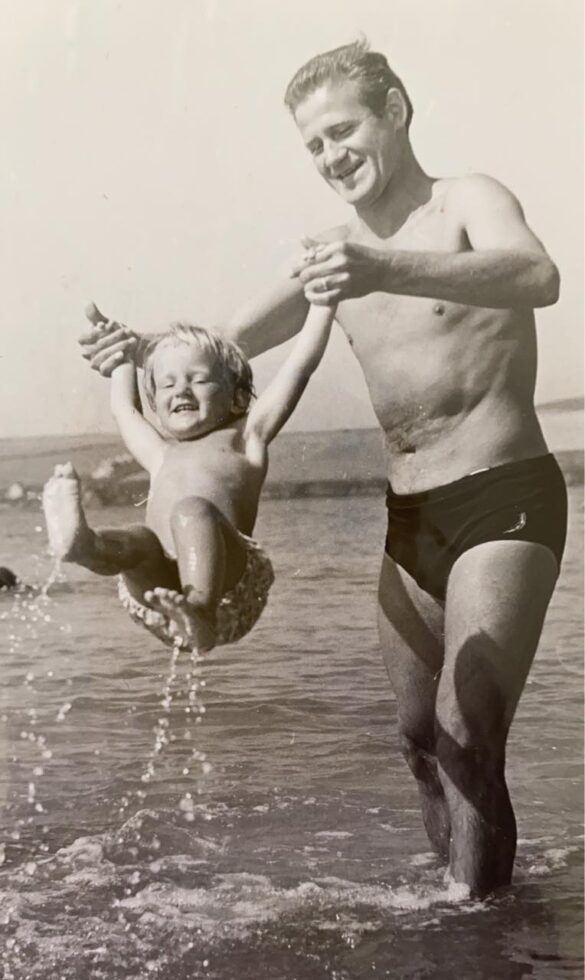 Almost 2 months ago, my father passed and completed his duties here on this Earth. This photo on the left is one of my favorites as it really portrays the relationship my father and I had. I am not sure who is having more fun in that moment…..but 2 months later, I feel that grieving is still a mystery.
My father was my rock. I feel like he was the only one who truly understood me when I was growing up. When I needed to be wound up, I would talk with Mom. If I needed calming, I would call my Father. He somehow always knew what to say.
He was also the person I looked up to. I learned so much from him. As a child, I would help me dad with all the fixing projects at home. Only about 12 years ago did I ask him why me? Why not my other sisters?

His response: "You were the only one interested in taking things apart, learning how it worked and putting it back together better than it was before." And he was right, I loved doing that! My father was a mechanical engineer, so he helped me created a bit more structure around what my mom thought was destructive behavior.
At first, I was not sure how I was going to react when my father was put on hospice after a heart attack. In the past 7 years while he was sick, I had said so many goodbyes unsure if that would be the last time I would see him alive. And then the calls started coming in from my siblings that "Dad is in the ER". I called my sister who was with him and Mom, and said a few words. And I received a few grunts from him as he could not speak with the CPAC breathing apparatus on his mouth and nose.
For days, I had told my sisters, Mom and myself that I would be okay if I just came in for the funeral as I have said so many goodbyes. But then, 2 days later, I woke up at 4:58 AM (i usually stir no sooner than 5:30 AM) and immediately knew that I had to go and say goodbye to Dad….I won't be able to live with myself if I don't even try!
I managed to find a flight and airport parking with a shuttle within 12 minutes. I am not even sure I had coffee first, but I was able to get home and to the hospital so I could see my father one last time. Somehow I kept saying to my father "Dad, don't you leave before I get there! I am coming! Please wait!!"
Backstory, his mother and sister both passed while he was in flight traveling to Poland. I really didn't want that to be the case now. "Please Dad, wait for me!! I am on my way!!!!"
Somehow he heard me.
But death is a weird thing. Although you are prepared for it, you really are not prepared for it. Even if you think you are, you have no idea how the grief will hit you or for how long.
Grieving is a mystery. This is the first death in the family and although I was somewhat relieved, I am still somewhat lost, unmotivated and questioning who I am. Not that I haven't felt this way before, especially during Covid, I felt it alot. But this feels different. Not being able to feel his presence even in a phone call, not being able to get one of his hugs, or not being able to fly back to Chicago and sit on his lap (yes, I sat on Dad's lap alot….much to my mother's chagrin). But that was the bond we had. He supported my athletic adventures. He came last minute to my first Ironman in Lake Placid in 1999….and I was a complete worrying mess until he showed up at 12:30 the day before the race.
My dad came out in 2008 to help me re-organize my business after the economic crash which really impacted my business. Now I am trying to channel his energy in so I can re-organize myself, not just my business.
My grieving is a mystery as none of my sisters seem to be feeling this way as I do. And maybe it was because I was daddy's little girl and a wee bit closer to him than the others. Someone wrote on Facebook, that my father will always be a part of me. That part cannot ever leave me. My challenge is that I want to FEEL that part of him in me. Maybe I should stop looking and just allow what is, to just be what it is and not try to make it something else.
In some ways, I felt like I lost my father over 7 years ago when he first got that flu and half of him literally disappeared. Half of his mind was gone and it never came back. Then the ravages of old age set in gradually on top of that. But I was still able to call and say a few words with him and hear his voice. I could fly to Chicago and spend time with him and Mom, and still get a hug and sit on his lap. It got increasingly hard though as he became wheelchair bound.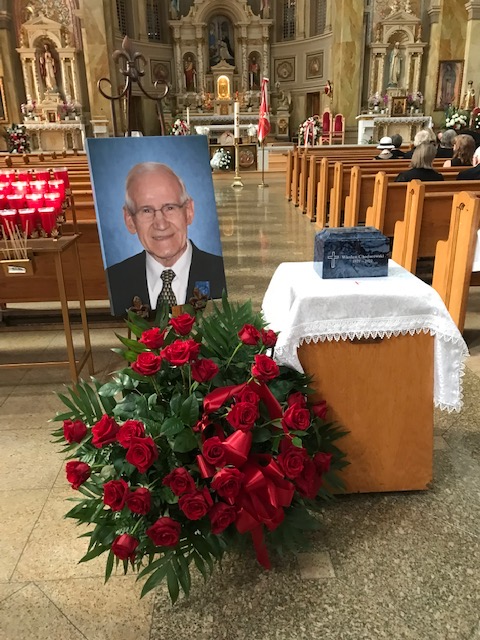 I was and I wasn't prepared for him going. Although he was sick and I had said goodbye so many times, saying it one final time just changes everything.
I still want to call home and ask Dad a question – even with his limited ability, he would always say exactly what I needed to hear.
Grieving is a mystery for sure and for anyone who experiences it for the first time, there is no formula. There is just a process of being present to whatever is in this moment.
Now it is just over 2 months later, and I still think about my father often. I wonder how he will connect with me and have asked that he show up as a smokey blue monarch butterfly. Never seen one, but that would really let me know it is him!
Who knows what will be my next step in the grieving process. Hopefully I will start to feel again what it is I am supposed to be doing with my days, and how I am to serve my clients with the gifts God gave me. I know how to do this, but wow, these past 2 months have really been un-inpsiring for my marketing, writing and creative brain to kick in. So as I continue to embrace the mystery of grieving, I keep asking God to support me however He can, and I also ask my Dad for his wisdom as he was really good at planning….and I am more of a creator and doer. If I just keep talking about it, maybe it will all just snap into place. Sooner than later please