I have assembled a short list of modalities that help with natural pain relief options.  I listed the pros and cons of Natural Healing Options.  This is not a complete list, but it is a good starting point.
All options are enhanced when in combination with an anti-inflammatory plan.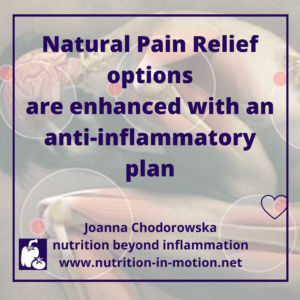 If the pain is chronic, there may be a need to combine all of them or several of them.   You can decide for yourself which you would want to include or schedule a call with Joanna to review your situation.  She can guide you as to which would be best for you or if you have any questions about how to reduce and eliminate your pain naturally!
Click here for the PDF version  so you can print it.
   Natural Methods                       Pros/ Benefits                                            Cons/ Side effects
Anti-inflammatory Diet

·   Eliminates pain naturally

·   Relatively easy if work with Joanna

·   Feel the difference within a few weeks or months

·   Increases mobility and recovery

·   Proven system
·   Uses real food first, sometimes supplements

·   Can take several weeks to notice full effect depending on where you are to start.

·   Need to commit to an almost daily routine

Essential Oils

·  Can have instant pain relief

·  Available in therapeutic grade!

·  Smell good!

·  Made from plants so work well with human body

·  Easily available and easy to use
·  Use topically, some internally

·  Can only apply a few times per day or may develop a rash

·  May only last several hours

·  Need to commit to regular use

 

Physical therapy

·   Improves alignment

·   Improves muscle imbalances

·   Reduces pain as a result of muscle and movement imbalances

·   Includes manual massage and trigger point therapy as needed.

·  Can take months or years to correct imbalances depending on where you are when starting

·  Can be a slow process unless you do it daily

·  Can be frustrating to do the homework as needed

·  Need to commit to regular visits and daily exercises to be done

Chiropractic

·  Assists in optimizing proper body alignment

·  Can provide instant relief depending on where you are in cycle

·  Is easy to implement

·  Can feel relaxing

·  Releases impingements in body structure (connective tissue) to body's healing process

·  Can take several weeks to years to correct imbalances depending on where you are at start.

·  Need to get treatments several times per week – can get expensive

·  Not always covered by insurance

 

Yoga/ alignment

·   Helps to ground you into your body

·   Helps alleviate stiffness

·   Increases range of motion

·   Improves mood and outlook

·   Focuses on breathe and range of motion

·   Relaxing and energizing

·  Can take months or years to correct imbalances

·  Can be a slower process

·  Requires a regular practice

Energy Work/ Trauma
release

·  Immediately reduces stress, calm

·  Helps increase your resistance to stress and negativity

·  Aids in reframing situations so you can see them with eyes of love.

·  Can experience instant pain relief

·  There is no homework

·  Easy, fun and enlightening

·  Assists in making self-care a priority

·  Connects you to your inner healing abilities and Divine presence.

·  Inspires hope and optimism.

·  Helps you be present and reframe situation into an opportunity for growth

 

·  Can take several sessions to correct emotional injury leading to pain.

·  Requires some patience and inner work between sessions

·  Can be expensive if you require weekly sessions for a prolonged period of time.

Self-Care

·  Choose what brings you joy

·  Your needs are a priority

·  Brings a sense of peace and accomplishment

·  

·  Can make others mad or disappointed.

·  Can take time and feel unproductive but it's not

Recovery Movement Therapy

·  Easy to do activities in 'recovery' mode – 65% of Max HR/ exertion

·  Stimulates blood flow to improve innate healing ability

·  Improves mood and outlook

·  Requires a shift in mindset to healing vs training

·  Needs to be limited to 20-40 minutes depending on activity

·  Can be a slow process

·  Can be frustrating to go so slow

·  Requires 'proper' movements to avoid further damage

·  Depression or anxiety

Supplements

·  Easy to use

·  Easy to find

·  Generally thought to be safe

·  Somewhat effective depending on which

·  May need a combination of several to get the effect wanted

·  May take up to a month before notice any improvement

·  Can be expensive but less costly than medications

·  May not work with your body chemistry

·  Need an expert to know which is right for you

·  May not be high quality

·  Body toxicity if take too much

·  May not work well if eating high inflammatory foods

Acupuncture

·  Can reduce symptoms quickly or over course of several appointments

·  Easy to administer

·  Not painful and usually relaxing

·  Can activate body's natural ability to heal

·  Can take a really long time depending on severity of situation

·  Can get expensive over course of time depending on frequency of visits

Prayer/ meditation

·  Non-invasive method

·  Easy to implement

·  Focuses on intention and calming mind of fearful thoughts

·  Uses faith in higher power to assist in healing the pain

·  Can provide insight as to what steps need to be taken (from above) and can change over time

·  Helps you be present and reframe situation into an opportunity for growth

·  Can take a long time (except for spontaneous healing occurrences)

·  Usually takes several weeks or months to notice improvement