As many of you know, I do a lot of work on inflammation reduction to help people get out of pain or their chronic health issue.  I offer many food and nutrition related suggestions that are practical with that person's life.  Last night I was talking to a client who has arthritis now officially diagnosed by their doctor.  They have it in their neck and hands.
In our sessions, we had already done some of the first steps of an anti-inflammatory plan.  The hands are less stiff, but still ache.
I suggested last night to add cold water fish into their diet a few times a week.  The list of cold water fish are herring, mackerel, anchovies, sardines and salmon.  I let those sit with her and after each fish I mentioned, I paused waiting for their reaction.  "Herring…I don't think I can do that.  Sardines….eew.  Too strong.  Oh, I think I can only do salmon based on that list."
Adding the cold water fish even once or twice a week will help fight inflammation.
I shared why cold water fish are the ones to include more than others – they have more omega 3 fatty acids which are anti-inflammatory.  But you have to then look deeper at how much EPA each has to really understand the value of why certain cold water fish are beneficial for reducing inflammation.  The omega-3 fatty acids are defined as alpha-linolenic acid (ALA, Eicosapentaenoic acid (EPA) and docasahexaenoic acid (DHA).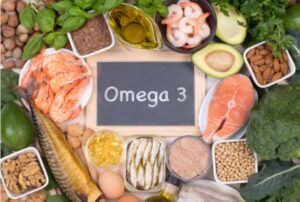 According to the Natural Institute of Health (nih.org), people who eat high amounts of fatty fish, like those in Greenland, have lower incidence of cardiovascular disease and arthritis.  These conditions as well as chronic pain, eczema, auto-immune issues and other health conditions have significant 'inflammatory etiologies'.  The EPA is a 'precursor to bring resolution programming into the body's inflammatory process'.  The EPA is basically anti-inflammatory and helps to reduce inflammation naturally, often times stopping the inflammatory process.
The question then is – How much EPA do I need to reduce inflammation?
My answer is, it depends on how bad the inflammation is and how long you have had it.
Generally, a therapeutic dose of EPA for inflammatory purposes is generally 2000-4000 mg daily.  For more extreme conditions, some need up to 10,000 mg per day.  That would be a lot of fish!  Which is probably unrealistic for most people.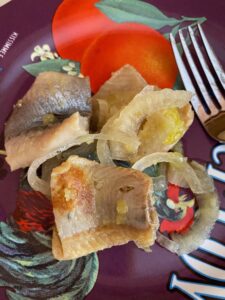 For overall health, eating 3-5 ounces of cold water fish several times per week is adequate.  For those with inflammatory conditions including GI distress, chronic pain, eczema and auto-immune issues, the recommendations are typically higher and closer to 4000 mg daily, sometimes more.
Here is a list of cold water fish that lists the amount of EPA in a 3 ounce serving. 
Let's say that you wanted a therapeutic dose of 2-4000 mg every day, then you would want to choose the fish that had the highest amounts of EPA in them.  But could you eat that much fish… every day??  That would be at least 8 ounces of herring per day and 3 times that if you choose salmon.  It is best to get the fish oils raw vs cooked to preserve the integrity of the omega-3 oils.  That would be a lot of mackerel and sardine sushi!
Here is the short list of the cold water fish with the amounts of EPA in them and the total omega 3's in parenthesis (from nih.gov):
herring 770 mg EPA per 3 oz serving (2002 mg)
sardines 450 mg EPA per 3 oz serving (1270 mg)
mackerel 430 mg EPA per 3 oz serving (3520 mg)
salmon (atlantic) 280 mg per 3 oz serving (1937 mg)
This may help you choose your fish wisely!  And if you don't think you can eat that much fish to help fight inflammation, then choose to eat the cold water fish a few times a week while implementing an anti-inflammatory nutrition protocol.
You can consider adding fish oil capsules, too if you have chronic inflammation.  I will be suggesting those in another post so keep a look out for the 3 best supplements to reduce inflammation!
If you have any questions about fighting inflammation with fish and omega 3 fatty acids and how to incorporate them into your diet, or how to lower your inflammation and resulting pain or health issue, please reach out and schedule a 15 minute chat. Or read the Inflammation Primer here.