I was watching a video and reading a website about healing leaky gut.  And they offered a quick leaky gut cure….which sounds great on paper, but from my experience as a nutrition therapy coach,  there is no quick leaky gut cure.

That site was explaining what it was (basically Leaky Gut is an impermeability of the intestinal wall lining which can result in many allergies, food sensitivities and other health issues), what is included in their online course (a bunch of online modules, maybe 7?) and it was also called some kind of 7 Day Reset….
Well, from my own experience with leaky gut and IBS related symptoms….it takes more than 7 days to reset and repair the gut. More like 3-6 months for the symptoms to subside and often even longer for full repair and full re-balancing of all the flora, the gut lining, etc.
If someone suggests this takes 7 days….do not believe them if they offer a quick leaky gut cure.

The program did have some really helpful components and these online modules to learn about the condition and possible options for repair including journaling, supplements, essential oils, etc…some to help manage the stress and document document symptoms and emotions.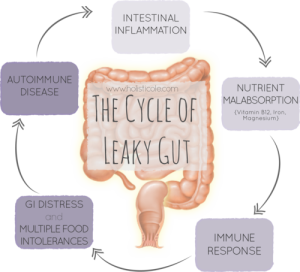 The body does repair itself given the right tools… And, with leaky gut, IBS and other GI distress issues, it may take 7 days of modules to learn what components need to be included, but it takes more like 7 months to have it all go away.  I have had some GI issues resolve in 7 weeks, but those were usually not leaky got but the early stages of gut imbalances.

"Fixing' leaky gut, etc requires someone to hold your hand along the way to help you navigate those steps, what to eat, what not to, substitutes, how to incorporate into your schedule and so much more.
Then it becomes even more complicated when you add stress and other factors of dealing with life…or not dealing and internalizing emotions, triggers, anxiety, etc. It all affects the gut!  Either for the better or the worse.

So how did you get here??  To leaky gut?



We help you understand how you got to this stage of leaky gut – usually a highly stressful situation that can be a week to 1 month in duration or some chronic stress that builds over time triggers an imbalance in the gut flora.  Think about when you are stressed – what do you eat?  Usually not so healthy things, and surely not the greens that help counteract stress, and not the same greens that also feed the good flora in the gut.
That stress causes the digestion to slow down or even stop.  When stressed, you are basically in a fight or flight scenario.  Digestion is NOT a vital necessity at that time.  So you may not want to eat….and this lack of digestion also adds to the stress and the flora imbalance.

When you are stressed, what you eat is usually the 'comfort foods' like cookies, pretzels, ice cream, carbs and pizza…..which in general could be fine.  But these 'carbs' and sugars feed that not-so-benficial gut bacteria.
When you add the stress and the carbs together, and don't include greens, you basically create a great level of dysbiosis (imbalance of gut flora), and this is often where the issue begins.  Left unattended, this can develop into leaky gut…and most likely will.  Even this can take months or years.

If you have worked with me, you know, I can do some amazing things especially with IBS, leaky gut, and all GI issues….but not usually in 7 days by selling an online course.
Healing Leaky gut and other GI issues requires these 7 "r" steps :
r – removing the aggravating foods
r – replacing the above with non-aggravating options
r – repair the gut lining – usually does require supplements

r – replenish the gut flora balance – usually probiotics and some food sources

r – restore full digestive function through digestive tract
r – re-introduce foods – which might be at the end.
r – RAH RAH – rejoice as you feel amazing again!
If you are looking for a quick leaky gut cure, I can honestly say "it doesn't exist".
I also want to add that if the stress is still there, we also need to address stress with energy work, essential oils or go seek other therapy to help lessen your burden.   Otherwise the issues may go away while we work together….but they will come back if the stress and how your body reacts to stress is not considered as well as something that 'needs treatment'.
If you have any questions, feel free to comment below, schedule time to chat about your issue and see if you are ready for the 3-6 months protocol to really repair leaky gut once and for all…