As I pulled the Badass card for today, it says "Here's to living the life you desire and deserve, every damn day!"
Yes, every darn day!!
That is how I want to live my life.  Although it seems so simple, it is not always easy.
Living the life you want to live requires listening to your inner voice.  It is listening to the wisdom that comes from within.  And it takes practice!  Every darn day!

I am learning to follow my inner voice.  The only way is to get myself centered with deep breathing and feel the vibration of love from God and sometimes Jesus, too, fill me up.  That vibration of love is what helps us heal – both physically, emotionally and spiritually.
It is that love that will help you honor what it is YOU want to do for yourself – eat better, move better, sleep better, communicate better, etc.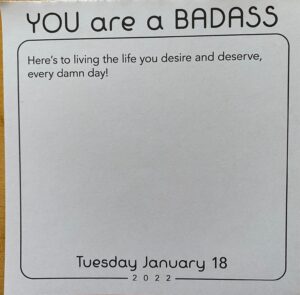 Then the trick is to listen for what's next.  What is it you need to do to get closer to that life you want?
It is seeing yourself with the same love that God has for you.  He loves you no matter what!  And when we can feel that love, we can direct that love towards ourselves.  We are being asked to see ourselves with the eyes of love.  When we feel that love, we choose differently and better.

But listening to your fears, doubts or what others may say about you stifles yours (and my) baddassery…and so we are being asked to practice this not just daily but as often as you need every day.
What is it you need to do to get closer to that life you want?

I teach my clients to do the same – breathe deeply and get grounded – for when you are still in the mind, you can hear the wisdom from within.  And that is God speaking!

Plus that feeling of love and raising vibration to or with love is what helps the body, soul and mind heal… and you can only feel that when you slow down to breath and feel grounded.  Then expand that feeling of love – you may feel your whole body tingle and feel warm.  

How will you show your badasserie today?? 
What will you do to get closer to that life you deserve and the life you want?? 
Maybe it is as simple as raising the vibration and just feeling the love that God has for us, right now?!  And know that you are always love, safe and supported.

First you/I need to get out of your/my pj's…