Welcome to the Cooking Fun With Joanna class we did on zoom.
We made Polish Hunter's Stew also known as bigos.
It is easier than you think and takes about an hour from start to finish.
It will be better the next day when the flavors blend and you can freeze it. It is also anti-inflammatory which I mention in the video.
Feel free to chop all the ingredients if you think it will make it easier to follow the video. We are cooking live, so you can just follow along!
The ingredients you need for Polish Hunter's Stew (Bigos) are:
2 onions, diced
1 cup of raw sauerkraut (fermented = no vinegar)
1 cup of white cabbage, shredded (can use cole slaw)
1/2 cup of beef meat (you can use any kind), cubed or small strips
1/2 cup of smoked sausages (dry smoked kielbasa), diced
1/2 cup vegetable broth
4 ounces of dried porcini mushrooms
1 ounce of tomato puree
4 pcs of dried juniper berries or 4-6 drops of essential oil
1-2 pcs of bay leaf
1 teaspoon of dried marjoram or 4-6 drops of essential oil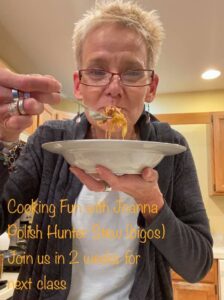 1/2 teaspoon of dried savory
1 teaspoon of fresh parsley, minced
1 teaspoon of red paprika
2-3 pcs of allspice berries
1 teaspoon of whole caraway seed
Olive oil pepper
Preparation:
You will need a good cutting knife or chopping knife cutting board, maybe 2
1 really large pot with a lid and a frying pan
If you want to chop, dice and slice the veggies beforehand, it may help so you can follow along more easily.
Heat the olive oil on medium heat in large pot.  Chop the onions and add the caraway seeds.  Brown the onions.  Add the other spices (or oils), the sauerkraut and chopped cabbage (or cole slaw).  Stir all the ingredients together and continue cooking. 
Add the vegetable broth and cover.  Make sure the broth is boiling before you cover.  Let simmer and cook stirring every 10 minutes.
Heat 1 tablespoon of olive oil in frying pan on medium heat.  Chop the meat into strips or small cubes and add to the heated pan.  You will brown the meat, turning once to brown both sides then add it to the pot of cabbage.  Stir and cover again.
Use same heated pan and add the chopped kielbasa, either in half moons, about 1/4 inch thick or into quarters.  Make sure the kielbasa pieces are laying flat on the pan.  Brown the one side, about 2-3 minutes, flip and brown the other side.  Add to the pot of cabbage, stir and continue cooking for the next 20-30 minutes until cabbage is tender.  You can take a sample to test whether the cabbage is soft or still a bit crunchy and determine how much longer it needs to cook. If you want to add bacon, repeat this step to brown the bacon in the pan and add to the cabbage.
If it needs more spices, add them here – usually marjoram, savory and juniper berry.  You do not need to add salt.  But you can add pepper if you want.
Add the chopped parsley, stir and serve hot.
This can be reheated the next day.  It can also be put into air-tight containers and put into the freezer.
Here is the video so you can follow along (and also learn about the anti-inflammatory properties of cabbage and some of the other ingredients.
Let us know how your turned out!!