These rosemary walnut biscotti are one of my favorite recipes for a savory biscotti! 
There is also a gluten free option for those who want to avoid wheat and wheat flour.
These rosemary walnut biscotti are also a great side dish for holiday dinners like Thanksgiving or as something to bring to a holiday gathering.  Of course, you have to like rosemary like I do.  I assume you could change the spice from rosemary to basil, thyme, marjoram or oregano?  But I have never tried those options, so if you do, please let me know how they work by leaving a comment below!
You can also substitute pine nuts instead of the walnuts, maybe even cashews as both are fairly mild.  Pumpkin seeds or pistachios may also be an option to add some festive color.
Rosemary Walnut Biscotti
Ingredients:
 – 2 1/2 cups all-purpose flour (can replace with gluten free flour + 1/2 cup flax seed meal)
 – 2 tablespoons cornmeal, ground
 – 1 tablespoon double-acting baking powder
 – 1 teaspoon sea salt
 – 1 large egg, preferably organic and free range
 – 1/2 cup plain yogurt (can substitute soy, goat or coconut yogurt if needed), can be non-fat
 – 1 stick (1/4 cup) unsalted butter, cut into bit and softened (but not room temp or is too mushy)
 – 3/4 cup walnut pieces, toasted and coarsely chopped (toasting is optional)
 – 1 tablespoon fresh rosemary or 1 teaspoon dried, finely chopped
Preparation: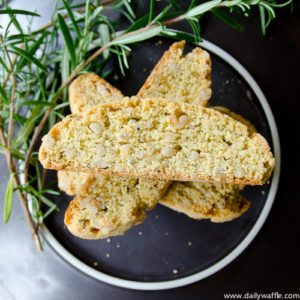 In a bowl of electric mixer, use the paddle attachment to blend the flour, ground cornmeal, baking powder and salt. 
  Add the egg, then the yogurt and beat on low speed until the mixture resembles a dough.
  Add the butter, beating until it is just incorporated, then stir in walnuts and rosemary.
  Turn the dough onto a lightly floured surface (like a wooden board), knead the dough several times and let it stand, covered with a kitchen towel for 5 minutes.
  Halve the dough.  Working on a buttered and floured baking sheet with floured hands (to keep dough from sticking to hands), form a log – it will be about 10-12 inches long, then press it down so it is a flat and 3-4 inch wide log.  Arrange the logs at least 3 inches apart – try not to place too close to edge of baking sheet either!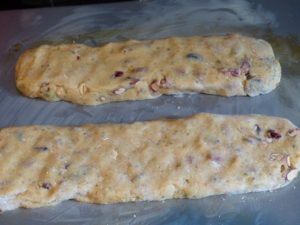 Bake them in the middle of the oven (325*F – 25* less if making a gluten free version) and bake for 20-25 minutes (5 minutes less for gluten free version) or until they are golden brown.
  Remove the baking sheet from oven, and let the logs cool for about 10 minutes.  They should still be warm, but not too hot so you burn your fingers!
  Transfer one log at a time, onto a cutting board.  Use a serrated knife to cut the logs on a diagonal into 1/2 inch slices.  Arrange the slices onto the baking sheet on their side – cut side down.  Note – you may need another baking sheet for a few extras that won't fit.
  Return the sheet back into the oven, same 325*F temp, for 10-12 minutes each side (8-10 if making the gluten free option).  Flip the slices to the opposite cut side and bake again for 10 minutes (8 if making gluten free option).  You will need to do this quickly, or you will burn your fingers 🙁
  Allow to cool for at least 30-45 minutes before placing into airtight containers.  They also lay well into a big baggie, side-by-side, so you can transport them easier.  Or place into a decorative tin to give as a homemade gift.
Enjoy these rosemary walnut biscotti instead of bread at your next holiday gathering!
Original recipe form Gourmet, December 1992 issue.