In December of last year, 2020, I was diagnosed with osteoarthritis.  It was not something I was happy about.  But I have since accepted that I have the condition yet I am also determined to dance at my niece's wedding in November.
I will be dancing in these shoes and I will try to share the video to show my progress from last August to this May.  
I am sure some of you will think I am crazy to want to wear heals when I dress up this weekend for my BIL's ordination or want to dance at that wedding in November when I have an arthritic hip.
But I know the body can heal given the right tools.
Here are the steps I am learning are needed:
– Nutrition with an anti-inflammatory diet is the foundation to minimize chronic inflammation.
– Next is aligning the femur and hip socket with PT, yoga and using my myosource bands plus trying not to overdo. Best to challenge the joint to stimulate circulation but not to the point it hurts and I create more pain later.
This has been tough for me but learning to listen to my body and what it needs is not easier!
– This winter I discovered how big of a role the gut microbiome plays in arthritis and other auto-immune issues.  If the gut is out of balance, it triggers inflammation and can also trigger degradation.  In this case, of the hip joint.
As I rebalance the gut, I can stop the degeneration and allow regeneration to happen.
– Lastly is probably the longest and harder part – healing the emotional trauma from childhood, the betrayal and trauma from prior generations. All those issues are stored in the tissues and in my case it feels like a lack of support both spiritually and physically.


I had to embrace my irresponsible self do I can allow play back into my life and not be so serious or have an endless agenda of things to do every day.
I had to embrace my destructive self who really just likes to take things apart and learn how it works, then put it back together better.  And I am surely learning the body is more than just a bag of bones, skin, organs and such.


This is the second hip that is degenerating with arthritis. Last time, I did a hip replacement which I now see as the easy way out.  This time I am working on my body as matrix of physical, mental, spiritual and emotional layers.
And it is all working!  It is not for the faint at heart but I can honestly say, it feels so good to add activities back in rather than keep omitting them because of arthritis!
I walked in these for about 5-10 minutes this morning including walking down stairs! Last time I tried, it was pretty bleak and I could only take a few steps on the carpeting.  This time it was on a wooden floor!   Next will be wearing heels for this weekend's Ordination and by golly, It is going to be fun to dress up and be in heels!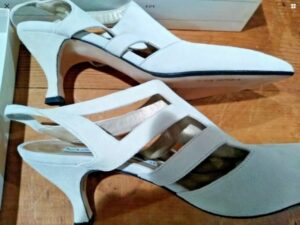 I want to play in heals and play dress up!
And so I will… just watch me!
If you are ready to embark on a journey to heal all layers of your pain and reverse your arthritis or health issue, please
schedule your chat
so we can discuss what your situation is and what would be best for you, the
Be Whole program
or something else.